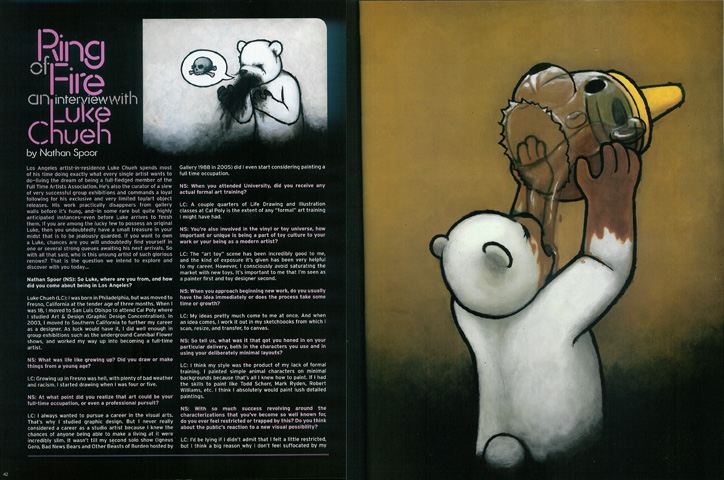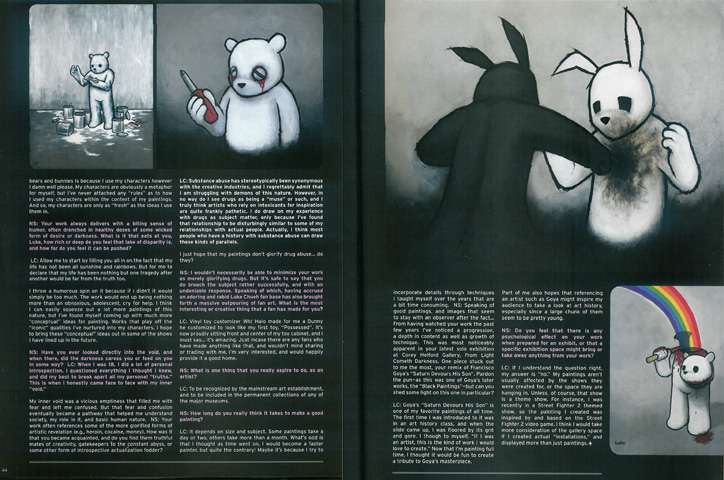 LUKE CHUEH
RING OF FIRE
By Nathan Spoor

Los Angeles artist-in-residence Luke Chueh spends most of his time doing exactly what every single artist wants to do – living the dream of being a full fledged member of the Full Time Artists Association. He's also the curator of a slew of very successful group exhibitions and commands a loyal following for his exclusive and very limited toy / art object releases. His work practically disappears from gallery walls before it's hung, and in some rare but quite highly anticipated instances even before Luke arrives to finish them. If you are among the lucky few to possess an original Luke, then you undoubtedly have a small treasure in your midst that is jealously guarded. If want to own a Luke, chances are you will undoubtedly find yourself in one or several strong queues awaiting his next arrivals. So with all that being stated, who is this unsung artist of such glorious renown? That is the question we intend to explore and discover with you today…

So Luke, where do you hail from, and how did you come about being in Los Angeles?

I was born in Philadelphia, but was moved to Fresno, California at the tender age of three months. When I was 18, I moved to San Luis Obispo to attend Cal Poly where I studied Art & Design (Graphic Design Concentration). In 2003, I moved to Southern California to further my career as a designer. As luck would have it, I did well enough in group exhibitions such as underground shows, and worked my way up into becoming a full time artist.

What was life like growing up? Did you draw or make things from a young age?

Growing up in Fresno was hell, with plenty of bad weather and racism. I started drawing when I was 4 or 5.

At what point did you realize that art could be your full time occupation, or even a professional pursuit?

I always wanted to pursue a career in the visual arts. That's why I studied graphic design. But I never really considered a career as a studio artist because I knew the chances of anyone being able to make a living at it were incredibly slim. It wasn't till my second solo show ("Igneus Gero, Bad News Bears, & Other Beasts of Burden" hosted by Gallery 1988 in 2005) did I even start considering painting a full time occupation.

When you attended University, did you receive any actual formal art training?

I studied graphic design at Cal Poly San Luis Obispo, where I took a couple quarters of Life Drawing and Illustration classes. That's the extent of any "formal" art training I might have had.

You're also involved in the vinyl or toy universe, how important or unique is being a part of toy culture to your work or your being as a modern artist (kind of two questions)?

The "art toy" scene has been incredibly good to me, and the kind of exposure it's given has been very helpful to my career. However, I consciously avoid saturating the market with new toys. It's important to me that I'm seen as a painter first and toy designer second.

When you approach beginning new work, do you usually have the idea immediately or does the process take some time or growth?

My ideas pretty much come to me at once. And when an idea comes, I work it out in my sketchbooks from which I scan, resize, and transfer, to canvas.

With such a strong sense of narrative, or immediately interactive quality, do you feel your work would translate into motion? Does animation appeal to you?

The thought of having my work move has definitely crossed my mind. But if I do explore that possibility, I've decided to not go the route of "animation".

With such a consistent trademark style, would we be amiss to think there might be a volume of your work available soon?

A book has definitely been in the talks. I'm hesitant to go into too much detail at the moment, but rest assured that the Luke Chueh book is in the works and will be put out whenever the time is right.

So tell us, what was it that got you honed in on your particular delivery, both in the characters you use and in using your deliberately minimal layouts?

I think my style was the product of my lack of formal training. I painted simple animal characters on minimal backgrounds because that's all I knew how to paint. If I had the skills to paint like Todd Schorr, Mark Ryden, Robert Williams, etc. I think I absolutely would paint lush detailed paintings

With so much success revolving around the characterizations that you've become so well known for, do you ever feel restricted or trapped by this? Do you think about the public's reaction to a new visual possibility?

I'd be lying if I didn't admit that I felt a little restricted, but I think a big reason why I don't feel suffocated by my bears and bunnies is because I use my characters however I damn well please. My characters are obviously a metaphor for myself, but I've never attached any "rules" as to how I used my characters within the context of my paintings. And so, my characters are only as "fresh" as the ideas I use them in.

Your work always delivers with a biting sense of humor, often drenched in healthy doses of some wicked form of desire or darkness. What is it that eats at you, Luke, how rich or deep do you feel that lake of disparity is, and how far do you feel it can be pushed?

Allow me to start by filling you all in on the fact that my life has not been all sunshine and rainbows. But for me to declare that I my life has been nothing but one tragedy after another would be far from the truth too.

I throw a humorous spin on it because if I didn't it would simply be too much. The work would end up being nothing more than an obnoxious, adolescent, cry for help. I think I can easily squeeze out a lot more paintings of this nature, but I've found myself coming up with much more "conceptual" ideas for painting. Works that play off the "iconic" qualities I've nurtured into my characters. I hope to bring these "conceptual" ideas out in some of the shows I have lined up in the future

Have you ever looked directly into the void, and when there, did the darkness caress you or feed on you in some way?

When I was 18, I did a lot of personal introspection. I questioned everything I thought I knew, and did my best to break apart all my personal "truths". This is when I honestly came face to face with my inner "void".

My inner void was a vicious emptiness that filled me with fear and left me confused. But that fear and confusion eventually became a pathway that helped me understand society, my role in it, and basic human nature.

Your work often references some of the more glorified forms of artistic revelation (heroin, cocaine, money). How was it that you became acquainted, and do you find them truthful mates of creativity, gateholders to the constant abyss, or some other form of introspective actualization fodder?

Substance abuse has stereotypically been synonymous with the creative industries, and I regrettably admit that I am struggling with demons of this nature. However, in NO WAY do I see drugs as being a "muse" or such, and I truly think artists who rely on intoxicants for inspiration are quite frankly pathetic.

I do draw on my experience with drugs as subject matter, only because I've found that relationship to be disturbingly similar to some of my relationships with actual people. Actually, I think most people who have a history with substance abuse can draw these kinds of parallels.
I just hope that my paintings don't glorify drug abuse... do they?

I wouldn't necessarily be able to minimize your work as merely glorifying drugs. But it's safe to say that you do broach the subject rather successfully, and with an undeniable response.That being said, your career has allowed you many fans and an adoring public. Do you have any special stories or hilarious moments from your days or nights?

The one story I find most entertaining is of a young Asian girl who approached me for a photograph at my 3rd Vivisect Playset show at Gallery 1988. I was chatting with my photographer friend Roman Cho when she approached me. It was when Roman took the pictures that I noticed something peculiar; when I put my arm around the girl's back, she nervously flinched. When Roman was done, we initiated small talk with the girl: "Thanks for coming to the show", "I hope you enjoy the work", etc. But before I knew it, she abruptly excused herself. "Sorry! Uh... Anxieties!...", and shuffled off into Golden Apple Comics next door.

Roman and I were stunned. What the fuck just happened here?

Having accrued an adoring and rabid Luke Chueh fan base has also brought forth a massive outpouring of fan art. What is the most interesting or creative thing that a fan has made for you?

Vinyl toy customizer Wht Halo made for me a Dunny he customized to look like my first toy, "Possessed". It's now proudly sitting front and center of my toy cabinet, and I must say... it's amazing.

Just incase there are any fans who have made anything like that, and wouldn't mind sharing or trading with me, I'm very interested, and would happily provide it a good home.

Does your art job take you anywhere interesting, any big trips?

The furthest I've been is New York, but there are some plans brewing for shows outside of the States. We'll see...

What is one thing that you really aspire to do, as an artist?

To be recognized by the mainstream art establishment, and to be included in the permanent collections of any of the major museums.How long do you really think it takes to make a good painting?It depends on size and subject. Some paintings take a day or two, others take more than a month. What's odd is that I thought as time went on, I would become a faster painter, but quite the contrary! Maybe it's because I try to incorporate details through techniques I taught myself over the years that are a bit time consuming.Speaking of good paintings, and images that seem to stay with an observer after the fact…

From having watched your work the past few years I've noticed a progression, a depth in content as well as growth of technique. This was most noticeably apparent in your latest solo exhibition at Corey Helford Gallery, "From Light Cometh Darkness." One piece stuck out to me the most, your remix of Francisco Goya's "Saturn Devours His Son." Pardon the pun, as this was one of Goya's later works, the "Black Paintings," but can you shed some light on this one in particular?

Goya's "Saturn Devours His Son" is one of my favorite paintings of all time. The first time I was introduced to it was in an art history class, and when the slide came up, I was floored by its grit and gore. I though to myself 'if I was an artist, this is the kind of work I would love to create'. Now that I'm painting full time, I thought it would be fun to create a tribute to Goya's masterpiece.

Part of me also hopes that referencing an artist such as Goya might inspire my audience to take a look at art history, especially since a large chunk of them seem to be pretty young.

Do you feel that there is any psychological effect on your work when prepared for an exhibit, or that a specific exhibition space might bring or take away anything from your work?

If I understand the question right, my answer is "no". My paintings aren't usually affected by the shows they were created for, or the space they are hanging in. Unless, of course, that show is a theme show. For instance, I was recently in a "Street Fighter 2" themed show, so the painting I created was inspired by and based on the "Street Fighter 2" video game. I think I would take more consideration of the gallery space if I created actual "installations", and displayed more than just paintings.

How do you feel when you see your work replicated by a fan or even a vendor?

When I see it replicated by a fan, for themselves, I'm flattered. When I see it being replicated by a vendor, for profit, I'm both flattered and pissed. Especially since it's usually done without my permission.

Where is one place you would like to travel and create art?

Paris or Beijing. Paris, because it's PARIS. Beijing, because I'm Chinese, and it seems like Beijing is quickly developing into one of Asia's major art epicenters.

What boundaries would you like to push in the future, moving forward with your work?

Future shows I have planned will feature explorations that will definitely push my stylistic, narrative, and conceptual boundaries. For instance, my next big show, "Inferno" (opening September 9th, 2009 at Gallery 1988) will feature my interpretation of Dante's Inferno.

Typically my work focuses on a singular character, existing in a very minimal environment. For Inferno, each painting will be of a ring of hell. The paintings are landscape oriented, featuring many characters interacting directly with their environment. This work will be very different from the work people have come to expect from me.

Did you ever entertain any other profession, any training or expertise in any other areas?

I guess I always knew that I would be involved in the art of visual communications, in one form or another. The only other profession I considered, before my settling into a career as an artist, was that of a graphic designer. (pause) Though while in college I did work at the University Union pizza parlor, and as a bus boy for Chinese restaurant.

Do you keep a journal, or a constant flow of sketches, some sort of diary or thought capture device, besides painting?

I keep volumes of sketchbooks, and fill them with all kinds of ideas that have come to me throughout the years.

How do you feel about teaching, or lecturing about art?

I'm very interested in the idea of teaching or lecturing about art. But I'm admittedly intimidated by the idea of doing it on a university / art school level, since I have no idea what that's like.

What are you reading right now, anything good lately?

I've been reading "Inferno" by Dante Alighieri as research for my show this September (opening September 9th, 2009).

What are your favorite bands at the moment, tell us a little about your musical tastes…

Before I moved to Los Angeles, I published a 'zine called e.x.p., dedicated to the "Intelligent Dance Music" genre. "Intelligent Dance Music" (IDM for short) included artists such as Aphex Twin, Autechre, Squarepusher, µ-ziq, Richard Devine, Hrvatski, Venetian Snares, etc.

But I'm also a big fan of Mogwai, Explosions in the Sky, Turing Machine, Godspeed You Black Emperor!, M83, Beck, Muse, Flaming Lips, Cure, Radiohead, Radio Dept., Spiritualized, Sigur Rós, Caribou, Black Moth Super Rainbow, Cornelius, Air... the list goes on.
Do you watch movies, study films, or enjoy theatre of any kind?

Absolutely! Movies, television, the occasional YouTube video... these are all wonderful sources for ideas and inspiration. My sister, Kim, is an aspiring actress, so she often fills me in on several different perspectives concerning the artistry of film & theatre, and the politics behind the entertainment industry.

When do you feel the most creative?

I find myself feeling most creative when I'm by myself, usually at night.

Do you segment a special time out for working, or is it always studio time?

For me, it's always studio time (whether I'm in the studio or not). I actually have to segment out time to go out, socialize, and see shows.

Did you notice any difference in your life after being known as the cover artist for Fall Out Boy's latest album?

No, not particularly.

As a successful artist in today's new contemporary art market, what bits of wisdom would you offer the artists of tomorrow?

One thing I'd recommend is to go out to the art shows. Pay careful attention to the sold artwork, figure out why it was sold, and consider whether what you've learned is something you can incorporate into your own work (without compromising yourself).

I think it's also wise to steer clear of the message boards. It's tempting to go online and read what people have to say about you, but those places have the potential to over inflate or utterly destroy your ego. And if you do go online in order to "defend" yourself, all your doing is opening yourself up as a target. It's one thing for people to talk shit about the "idea" of you, it's another for people to talk shit about you directly. And at the end, you look like an ass. It's a no-win situation.