Billboard - International Newsweekly of Music, Video and Home Entertainment
February 2, 2002
Excerpts from: Industry Celebrates Black Entertainters
By Gail Michell and Jill Pesselnick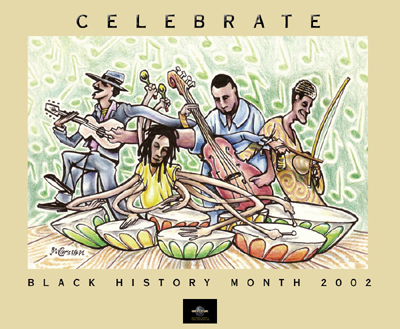 Universal Music and Video Distribution adopted this painting by LA-based artist Nathan Spoor as the poster art for its 2002 salute to Black History Month.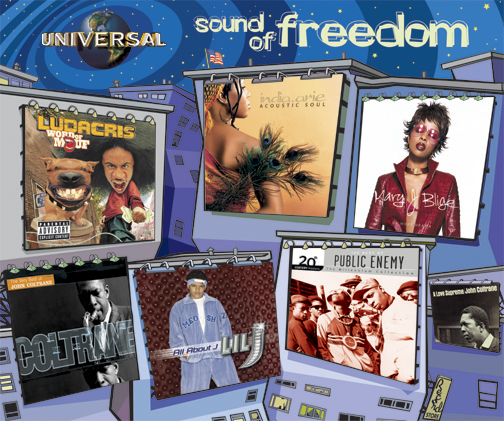 College campusses are the focal point for Universal Music and Video Distribution's "Sound of Freedom" promotion that centers on six core artists: India.Arie, Mary J. Blige (whose No More Drama album is being released January 29 with additional tracks), Lil' J, Ludacris, jazz great John Coltrane, and rap pioneers Public Enemy. Throughtout February, a visibility banner featuring those acts will be displayed at 35 key colleges, including Georgetwn University, Texas Southern University, and California State-San Diego University, with Universal reps giving student consumers the chance to win Universal Music gift sets.

In addition, the company's artist-development reps will be working in tandem with the college reps to target local independent retailers. A specifically designed poster by Nathan Spoor of LA-based DEITY DESIGN will be availalbe to retail consumers in conjunction with the on-campus promotion.